Included in the volunteering program is a 5 day adventure into Botswana. After crossing the Zambia/Botswana border we will travel to Elephant Sands, a Bush Lodge located 53km north of Nata on a 23000ha private conservancy. Here you will experience a real bush experience. The campsite and lodge are unfenced so all animals roam freely which means you can expect to see anything. The secluded located also means you can enjoy the serenity and peacefulness while also letting the wildlife excite and inspire you.
We have access to a large private area so you can enjoy a game drive without the hustle and bustle of other safari tour operators. You won't have to worry about being surrounded by large tour groups and other safari vehicles. So you can enjoy the experience in tranquillity and at your own pace.
After spending two night at Elephant Sands Bush Lodge we will head to Thebe River Lodge in Kasane. This will be our base for you to explore Chobe National Park. You will go on a game drive where you'll have the chance to spot up to 15 different species of animals including lion, buffalo, waterbuck, lechwe, puku (this is the only part of Botswana where they can be seen), giraffe, kudu, roan and sable, impala, warthog, bushbuck, monkeys and baboons, leopard, hyena and jackal.
However, the highlight of your trip will be a river cruise along the Chobe River. Large concentrations of elephant and buffalo congregate along the Chobe River giving you a unique opportunity to get up close and personal to these magnificent animals. You will also get a intimate view of the crocodile and hippo populations that surround the river.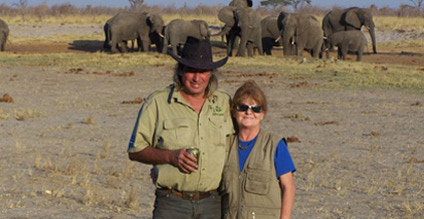 Dan and Paula at Elephant Sand in Botswana